Component® with Tylan®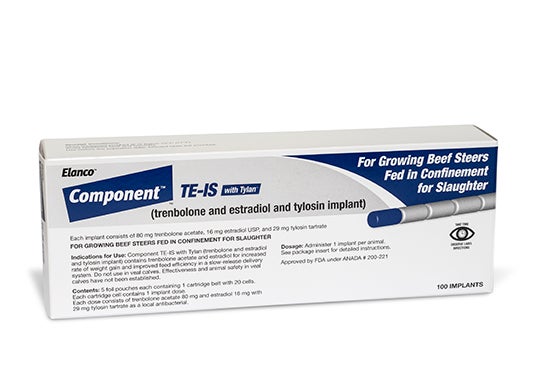 Component® with Tylan®
Maximize and protect your implant investment. Regardless of market prices, it's essential to use proven high-return solutions. Component® with Tylan® improves performance and is the only implant that offers the added value of Tylan's ear abscess defense to protect and maximize your return on investment (ROI). Implants have shown to provide a 24:1 ROI and play a successful role in end-point management protocols.1 The Component with Tylan implant line offers solutions for both steers and heifers. Every implant includes a tylosin tartrate (Tylan) pellet that dissolves and releases an antibacterial throughout the implant site to reduce the incidence of abscesses.2,3
Component with Tylan implants include the below brands. For ingredient levels, view our Implant Comparison Guide below.
Complemented by Elanco's feed additives portfolio and services to optimize herd productivity.

Packaging Sizes: Each box contains 100 doses.
Dosage: Administer one dose in the ear subcutaneously according to label directions.
Better Implant Performance Starts With Healthier Implant Sites
Every animal mounts an inflammatory response to the implanting procedure.3 This response can have an impact on abscess rates, especially in wet or dry conditions.
Every Component with Tylan includes a blue Tylan pellet that quickly dissolves and spreads throughout the impact site for fast, localized antibacterial action.
Component with Tylan reduces implant defects, improving the health of the implant site and overall performance.2
Comprehensive Efficiency Solutions
As part of a comprehensive portfolio of efficient solutions from Elanco, Component with Tylan impacts are backed by an experienced team of technical consultants to help producers achieve their nutritional and health goals. To learn more about each impact available in the Component with Tylan line, view out Implant Comparison Guide.
Important Product Information
Learn more about how to properly administer, store and use Component with Tylan. See label for complete use guidelines, including all cautions and warnings. Always read, understand and follow the label and use directions.
Administration
To learn how to properly implant Component with Tylan, click here to view Elanco's Zero Defect Implanting® Critical Control Points.
1 Duckett, S. et. al. 2013. "Anabolic implants and meat quality." Journal of Animal Science.
2 Elanco Animal Health. Data on File. 2004. Study A0622.
3 Elanco Animal Health. Data on File. 2010. Study T1EUS090001.
Component with Tylan, Elanco and the diagonal bar logo are trademarks of Elanco or its affiliates.