Encore®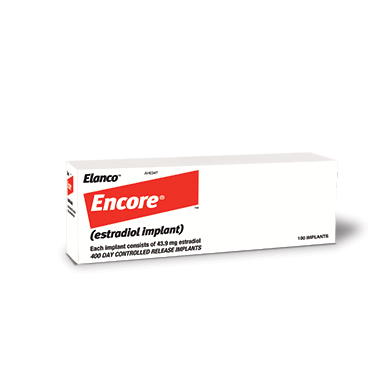 Encore®
Maximize performance for extended grazing or feeding periods. Encore® (estradiol) implants are a sustained-release estrogen cattle implant that are an ideal fit for lightweight steer calves and long-fed Holstein steer programs. Encore offers a long-acting, flexible, convenient implant option with the added benefits of a localized antibacterial coating on each dose.
Sustained growth and weight gain: Encore improves weight gain and feed efficiency with no impact on quality grade, even if calves are exposed to heat stress during the early growth stages.1
Long lasting: Encore lasts the entire feeding period up to 400 days.
Improved efficiency: Because only one implant is required, fewer times through the chute means less potential injury, lower labor costs, less disturbance of normal feeding behavior and lower stress.1

Packaging Sizes: Each box contains 100 doses.
Dosage: Administer one dose in the ear subcutaneously according to label directions.
Protection In Every Dose
Elanco offers protection in every implant with localized antibacterial coating on every dose and a variety of implant options.
Comprehensive Efficiency Solutions
As part of a comprehensive portfolio of efficiency solutions from Elanco, Encore is backed by an experienced team of technical consultants to help producers achieve their nutritional and health goals.
Important Product Information
Learn more about how to properly administer, store and use Encore. See label for complete use guidelines, including all cautions and warnings. Always read, understand and follow the label and use directions.
Administration
To learn how to properly implant Encore, click here to view Elanco's Zero Defect Implanting® Critical Control Points.
Encore Product Information
1 Beckett, J. and Brewer, R. et. al. 2003. "Effects of long-acting estrogen implant with and without trenbolone acetate on performance and carcass characteristics in Holstein steers." J. Anim. sci. 86(suppl. 1): 211.
Encore, Elanco and the diagonal bar logo are trademarks of Elanco or its affiliates.