Cydectin® (moxidectin) Pour-On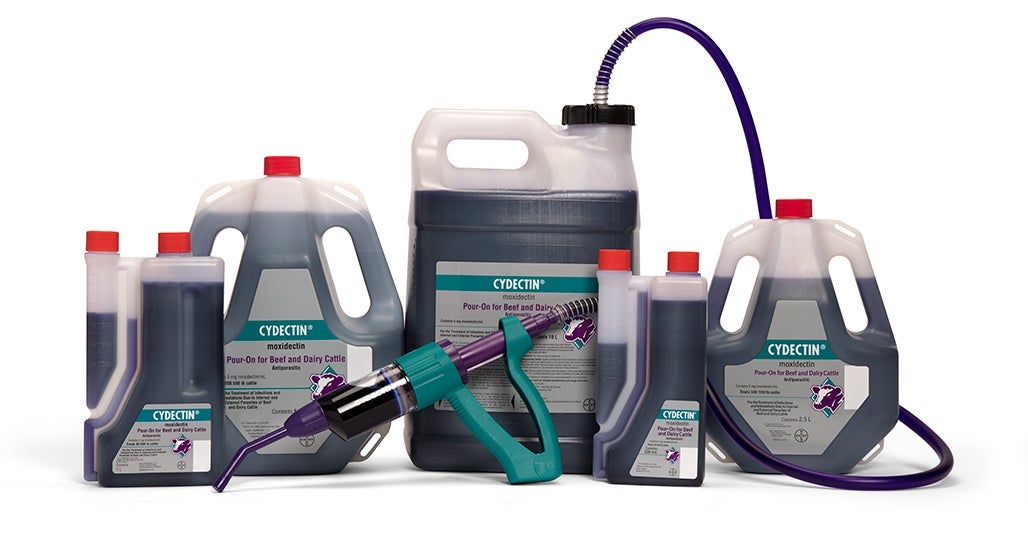 Cydectin® (moxidectin) Pour-On
The industry's #1 selling pour-on deworming brand containing the active ingredient moxidectin, providing an easy-to-use pour-on treatment of infestations and infections due to lice, mange and internal parasites. Cydectin® (moxidectin) Pour-On is approved for use on dairy cattle, including lactating dairy cattle, for the treatment of infections and infestation of internal and external parasites. Cydectin is a market-leading internal and external parasite solution with a zero milk withhold and zero slaughter withdrawal.
Packaging
Dosage
Key Product Benefits: Cydectin treats lice, mange and key internal parasites that affect cattle comfort, reproductive performance and overall milk production.¹

Labeled for the control of four species of biting and sucking lice plus two species of mites: the common scab mite (Psoroptes ovis) and the chorioptic tail head mange mite (Chorioptes bovis).
Unique by its structure, Cydectin is the only molecule in the milbemycin class of macrocyclic lactones. All others pour-on dewormers are part of the avermectin chemical group.
Zero milk withhold and zero slaughter withdrawal.
The purple dye of Cydectin allows for easy identification of treated animals.
Weatherproof and oil-based formulation, which allows application before, during and after rain and snow events without impacting product efficacy.
Dung beetle and earthworm friendly.

Important Product Information
Learn more about how to properly administer, store and use Cydectin. See label for complete use guidelines, including all cautions and warnings. Always read, understand and follow the label and use directions.
Indications

Cydectin Pour-On when applied at the recommended dosage is effective in the treatment of internal and external parasites. See product label for a full listing of parasites controlled.
1 Townsend, L. 2000. "Lice on Beef and Dairy Cattle." University of Kentucky Cooperative Extension Service. Bulletin no. ENTFACT512.