Rumensin® for Dairy Cattle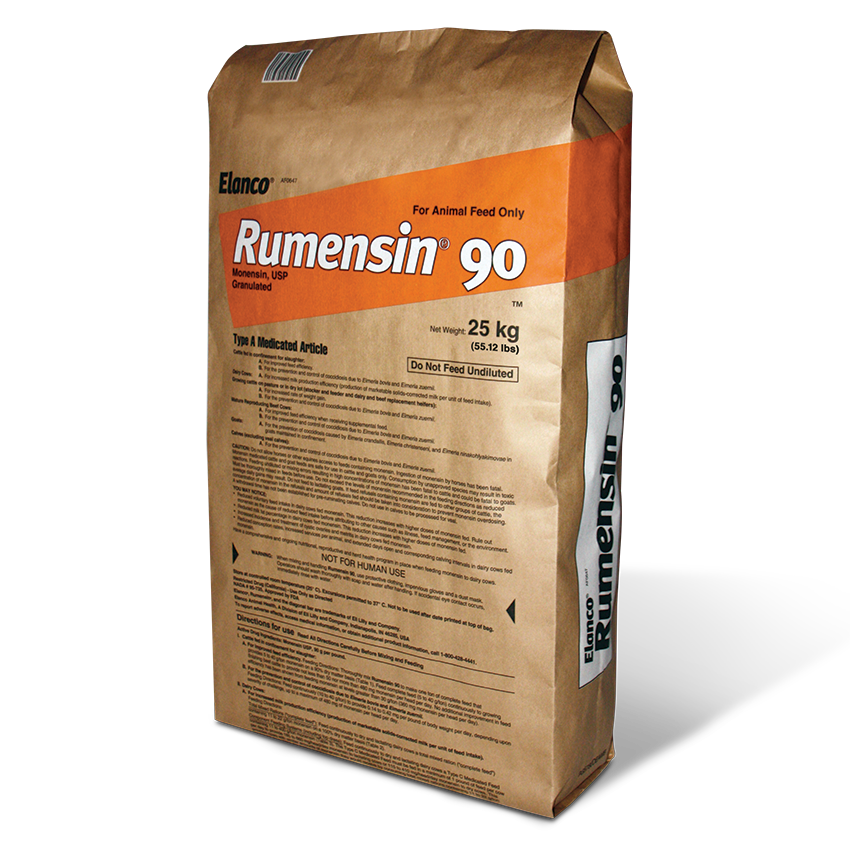 Rumensin® for Dairy Cattle
For over 45 years, dairy and beef producers have trusted Elanco's Rumensin® to deliver consistent, dependable results that add more profit potential to their bottom line. The findings from more than 400 Elanco research studies have made it possible for producers to include Rumensin in their ever-changing feed programs and management systems.
Key Product Benefits:

5:1 average return on your investment1
More milk per pound of feed (for just pennies per head per day)2
Increased milk production efficiency throughout lactation and the dry period
Meets the United States FDA's stringent standards for effectiveness and animal, environmental and human-food safety
Why is extra energy important?
Rumensin gives cows a boost of extra energy* that can increase their milk production efficiency.2 Rumensin is the first FDA-approved feed ingredient for lactating and dry cows that increases milk production efficiency by delivering more milk per pound of feed while maintaining milk's natural wholesomeness.
Cows have different needs at different stages. Early lactation cows crave additional energy to support higher production. Late lactation counterparts need less feed to maintain production and pregnancies. Regardless of the feedstuffs for lactating and dry cows, Rumensin helps cows get more energy from every pound of feed.
Rumensin helps prevent and control coccidiosis in calves and heifers, and promotes increased heifer weight gain during all stages of post-weaning development.
Improves milk production efficiency by delivering up to 4% more energy per pound of feed1 and a return on investment (ROI) of at least 5:1.1 Helps dairy replacement heifers get more energy from their feed, freeing up nutrients for growth and development.3 This enables heifers to conceive and calve from 36 to 61 days earlier than control.4,5
Coccidiosis Prevention and Control
Rumensin kills coccidiosis parasites at three different stages of the life cycle instead of merely slowing development.6 By preventing and controlling coccidiosis, Rumensin helps dairy calves avoid "stallout," enabling a better transition into group housing with faster weight gain (0.21 lb/hd/day)5 with no change in feed intake.
Lactating Dairy Cows
Rumensin means greater milk production efficiency2—up to 4% more energy per pound of feed, for a return on investment of at least 5:1.1 Rumensin's ability to help cows get more energy from every pound of feed provides flexibility when formulating rations. Dairy producers can customize the herd's rations and get more milk from the same feed or the same milk from less feed. By increasing milk production efficiency, Rumensin helps provide value throughout the lactation cycle:
During transition and early lactation
◦ More energy from every pound of feed
◦ No change in dry matter intake (DMI) while cows are in negative energy balance
Mid-lactation and late lactation
◦ More milk per pound of feed
◦ Once energy balance is achieved, DMI may decrease
During the dry period
◦ More efficient use of feed to maintain body condition
Safely and effectively produce more milk per pound of feed
Rumensin is approved for use in dairy cows in more than 20 countries around the world. Extensive research associated with these approvals shows that the natural wholesomeness and quality of milk from Rumensin-fed cows are maintained throughout lactation. In addition, the FDA has determined that both milk and meat from cows fed Rumensin are safe for human consumption. That's why no withdrawal is required when feeding Rumensin to dairy cows, heifers or calves.
Because feedstuffs and management goals are unique to each dairy, it's important to work with your nutritionist to optimize Rumensin to get the most out of your feed. Nutrition experts can help translate the sound science behind Rumensin into real-world results for you.
Calves and Heifers
Rumensin is approved for increased rate of weight gain and for the prevention and control of coccidiosis due to the protozoan parasites Eimeria bovis and Eimeria zuernii in dairy replacement heifers. Rumensin contributes to the growth and health of heifers through two mechanisms:
Improving rumen fermentation7
Killing coccidia in the small and large intestines7
In the rumen, Rumensin alters the microbial population, resulting in greater production of propionic acid. Production of propionic acid allows the calf to capture more energy from the ration and serves as the major substrate for glucose synthesis in the liver,8 increasing rate of weight gain in growing cattle and improving milk production efficiency in lactating and dry cows.
Rumensin prevents and controls coccidiosis. Some other products used to control coccidiosis simply interrupt the coccidiosis growth cycle. They prevent further growth as long as the drug is present in adequate levels. When these products are removed from the feed, growth of the coccidiosis parasites resumes and can lead to coccidiosis breaks. Those compounds are referred to as "static" products, in contrast to Rumensin which renders a "cidal" or killing effect. The best way to get solid control of coccidia is to feed Rumensin right from the start. When calves are first born, their starter feed should contain Rumensin at a level ranging from 30 to 60 g/ton. Research has shown that feed intake is maintained at these concentrations of Rumensin in the starter feed.9 By including Rumensin in the starter feed, the coccidia have the opportunity to be killed in a timely manner following ingestion. Good control from the beginning increases the ability of calves to maintain a desired growth rate and avoid breaks associated with changing environment and diets at transition.
Microtracers®
Feed companies that supply quality feed products to the cattle industry have utilized Elanco's Rumensin as an integral component of their feeding programs. To assist feed manufacturers in providing a quality feed product to their customers, Elanco has added Microtracers to Rumensin. Microtracers can provide a quick method for confirmation of inclusion or absence of Rumensin in the feed.
Microtracers are extremely small, stainless steel particles with a unique color coating, which do not impact the feed, animal, or environment when Rumensin is used. With the addition of Microtracers in Rumensin, samples of premix or supplements can be tested for the presence of Rumensin in less than three minutes.
Elanco provides two Rumensin Microtracers detection kits: the mason jar and the rotary detector.
Downloadable Resources
Learn more about Rumensin through these additional resources.
The label contains complete use information, including cautions and warnings. Always read, understand and follow the label and use directions.
CAUTION: Consumption by unapproved species or feeding undiluted may be toxic or fatal. Do not feed to veal calves.
Rumensin is a registered trademark of Elanco or its affiliates. Other company and product names are trademarks of their respective owners.