Don't Let Flies Damage Your Poultry Operation Performance
It's estimated that flies cost global livestock and poultry production industry billions of dollars in losses each year.1 Not only do flies spread disease, they also create nuisances that cause animals to waste energy and disrupt normal feeding.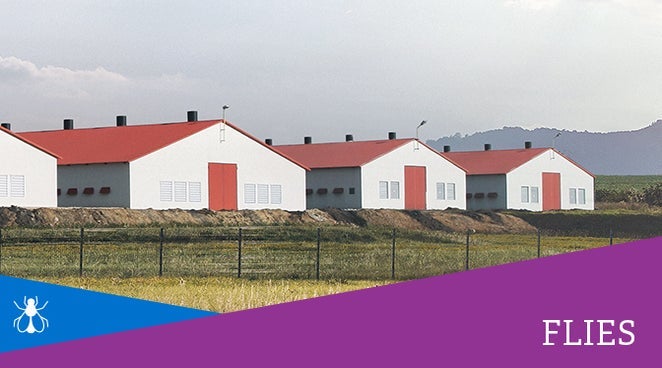 Control Flies with Elanco Insecticides
Elanco products include both adulticides and larvicides to attack flies at all stages of life.
A diversity of chemical classes that use multiple modes of action help minimize the risk of resistance.
Get Expert Advice in Creating an Integrated Pest Management Program
Your Elanco representative can offer expert insight into how our insecticides fit into your integrated pest management (IPM) program.
Elanco's broad range of fly control products offer solutions for any need. Plus, your Elanco team will offer expert advice on creating and executing an IPM that takes care to minimize the risk of resistance.
Effective Fly Control from Elanco
Your Elanco team will help you carefully assess your insect challenges and choose a solution from a broad array of effective insecticides. The Elanco insecticide product portfolio can attack flies at both the larvae and adult stages with multiple modes of action for maximum effectiveness and reduced risk of resistance.
Agita, CyLence, Elector, Larvadex, Neporex, Permectrin, Rabon, Ravap, and Vapona are trademarks of Elanco or its affiliates. The QuickBayt trademark is owned by Bayer and is used under license.
PM-US-21-1497(4)