Respiratory Disease Control in Poultry
Elanco's respiratory vaccines offer poultry producers the confidence of protection in the face of respiratory challenges. Whether protecting your current flock or providing passive immunity to the next generation, we have the vaccines that will help ensure the health of your birds.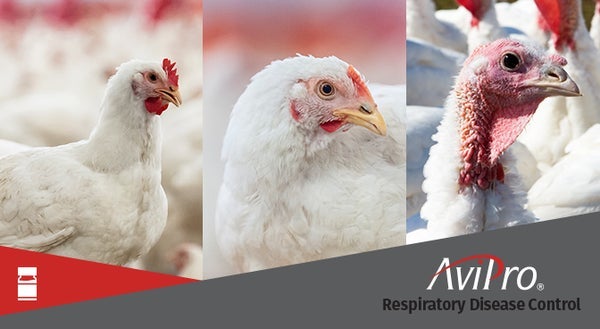 Protecting Against Respiratory Disease in Chickens and Turkeys
Specialized Emulsification for Vaccines
Manufactured with technology that reduces the reaction at the injection site.
Live & Inactivated Poultry Vaccines
Offering both kinds of vaccines to ensure customers have access to the best respiratory disease solutions for the health of commercial and breeder flocks.
The Industry's Top Technical Team
As Elanco customers, you'll have the support of a team dedicated to helping you identify and overcome challenges with the best products and practices.
Elanco's portfolio of respiratory disease control products ensure that you have powerful, safe vaccines to tackle specialized health concerns within your flock.
Get a Broad Range of Protection for Your Flock
Elanco's AviPro® respiratory vaccines provide the tools needed to aid in prevention of fowl cholera, Newcastle disease, infectious coryza, infectious bronchitis (Arkansas, Connecticut and Massachusetts types), laryngotracheitis and Mycoplasma gallisepticum.
The labels contain complete use information, including cautions and warnings. Always read, understand and follow the labels and directions for use.
AviPro is a trademark of Elanco or its affiliates.