Poultry Immunosuppression Control
Elanco's immunosuppression control products offer customers the confidence of protection in the face of field challenges. Whether you're protecting your current flock or providing passive immunity to the next generation, we have the AviPro® vaccines to help ensure the health of your flock.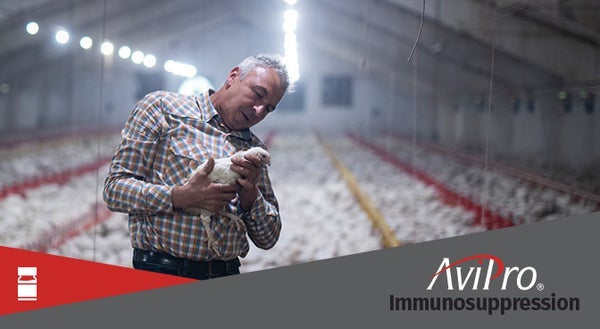 Protect Against Reovirus and Bursal Disease in Chickens and Turkeys
Specialized Emulsification for Vaccines
Manufactured with technology that reduces the reaction at the injection site.
Effective Prevention of Reovirus, Infectious Bursal Disease
Proven safe and effective against major immunosuppression diseases.
Expert Service and Consultation
Your Elanco team can help with vaccination training, serology/strain selection and veterinary recommendations.
Choose AviPro and Elanco to get the products and expertise needed to identify and overcome specific disease challenges within your flocks.
A Broad Portfolio of Products for Maintaining Robust Flock Health
Poultry producers trust AviPro vaccines for leading-edge, safe and effective solutions to multiple disease challenges.